Carol L. Cain
Carol's Journal
Register
2014.01.01 Recap of 2013
Last updated: None
It's a new year and time to reflect on the old. Many thanks goes out to my husband D'Arcy for helping me bring you pictures in my journal that when you click on the small picture you get the big picture.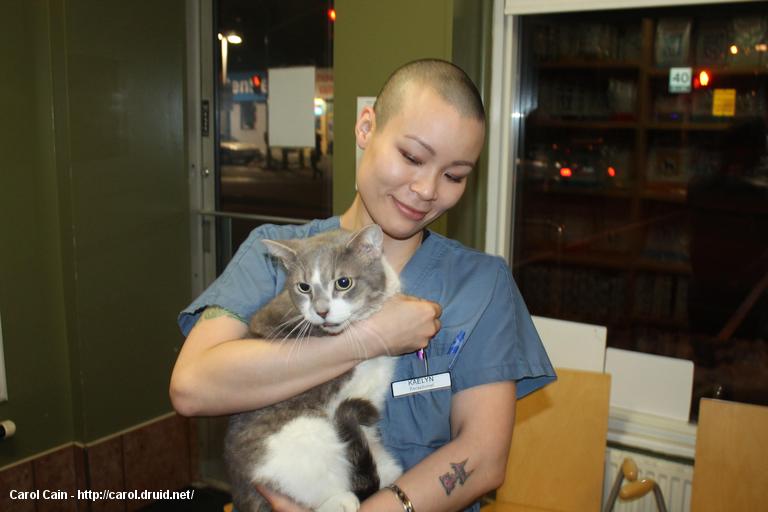 Romeo, one of the cats I fostered for Toronto Cat Rescue had to have dental surgery done. I wrote in my journal about Romeo's feelings about this. I wrote this as if I was Romeo.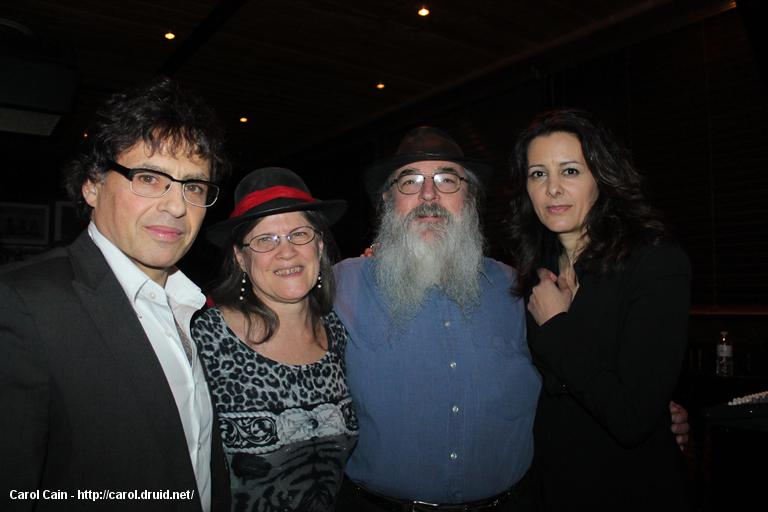 We went to Chalkers to see one of Vex.Net's customers, Ron Davis, who is a world famous pianist for the release of his his eighth CD, Blues Modules. He was joined by various excellent musicians including his lovely and telented wife Daniela Nardi.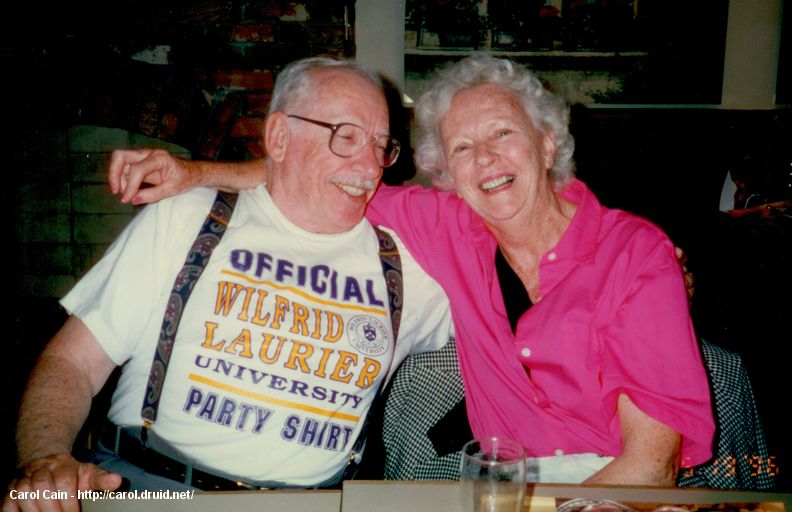 In January we lost D'Arcy's Aunt Sheila. Sheila was actually his father's cousin and the two families were always close.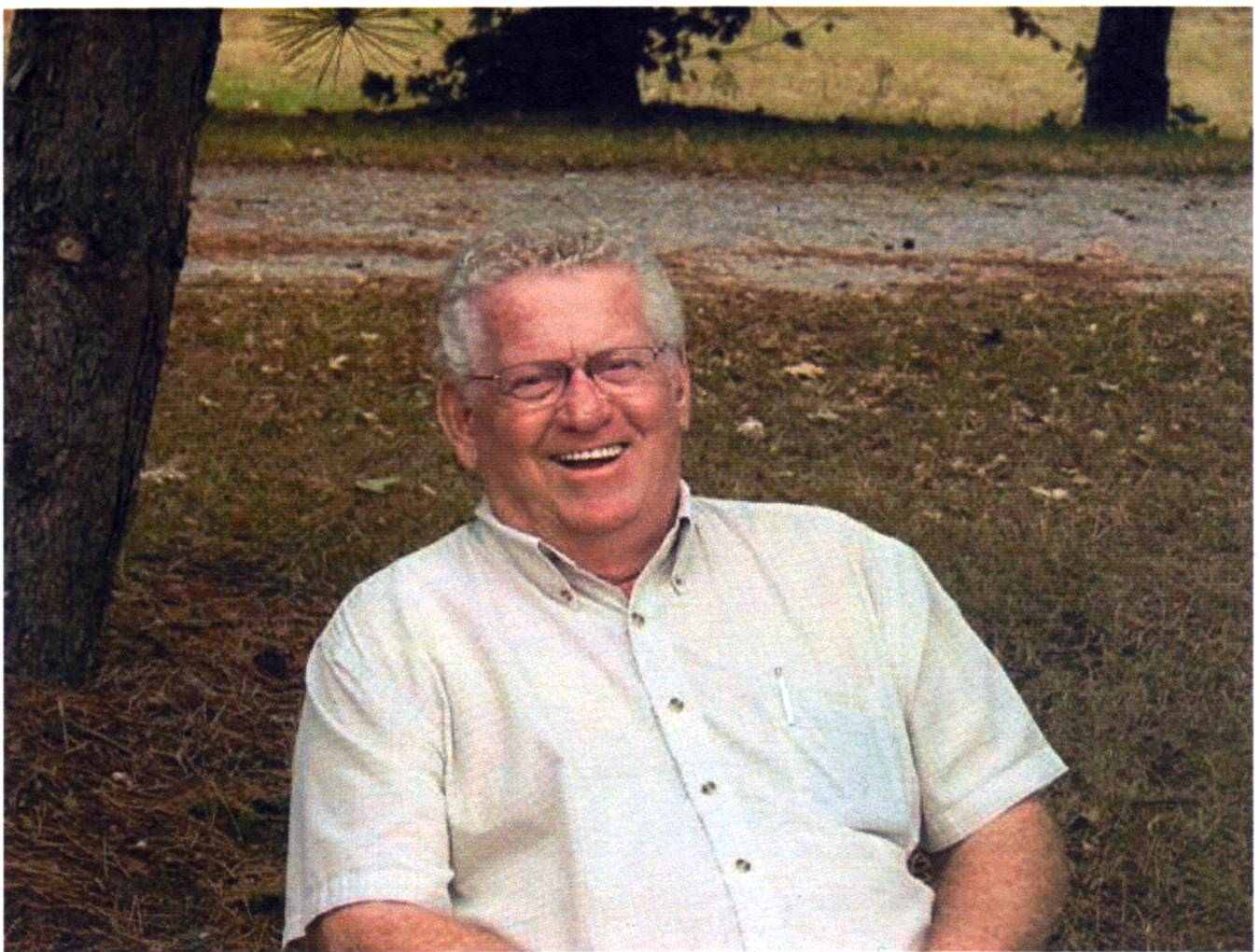 We also lost a good friend I used to know while convening soccer. Bruce Wood passed away March 11, 2012. Bruce handled registrations for the North York Cosmos Soccer Club and worked closely with D'Arcy who built and manages the registration database.
D'Arcy and I went back in time and spent the afternoon with my childhood friend Karen Goucher while she was passing through Toronto. Karen and I used to live around the corner from one another in Montreal.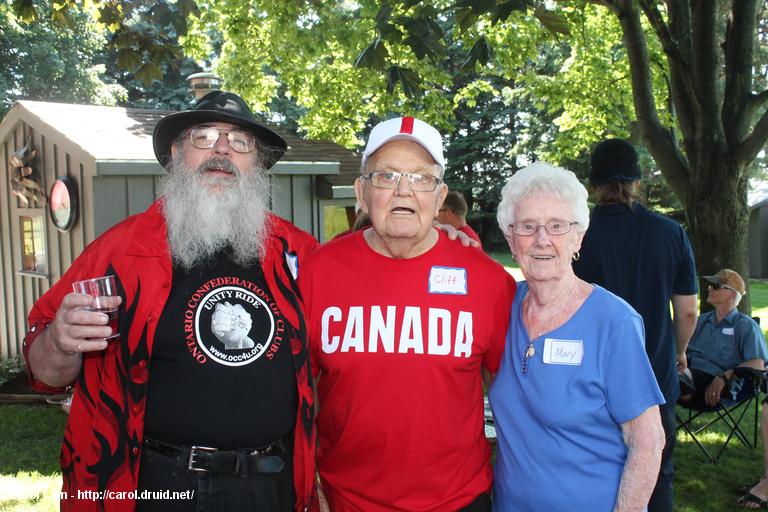 D'Arcy's Aunt Mary and Uncle Clifford on his mother's side has a reunion of both sides of their families. The reunion was held at their daughter's home and the Lehmans were asked to wear red and the Fishers wore blue. There were many friendly competitions between both clans and a great time was had by all.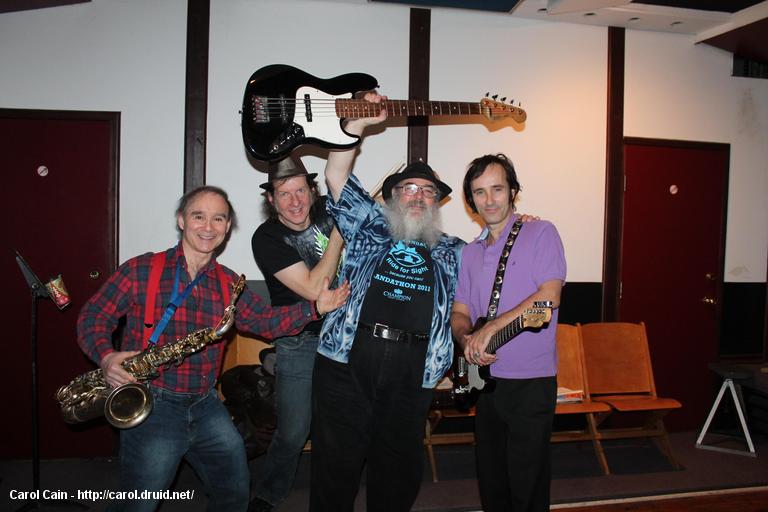 Of course D'Arcy still plays at different jams. He played at The Beaches Bluesfest and he also does sound for GrooverAlter and I take pictures. D'Arcy had the privelige to play with our dear friend Glen Singleton who plays with Bad To The Bone, Jerome Godbout, Jack de Kuyser and other top musicians. D'Arcy also played with his friend Joe Poirer. He also played many gigs with his fifties and sixties classic rock band the Rave. Both H to Oh! and The Rave had a live Internet broadcasts which D'Arcy was part of.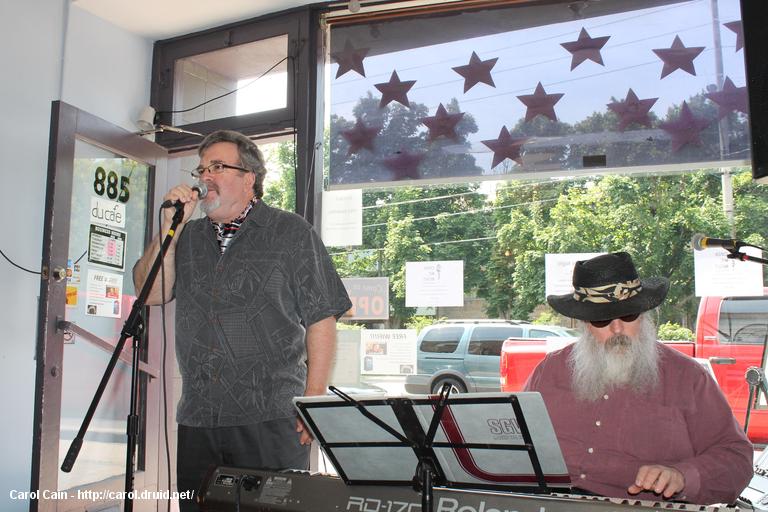 D'Arcy and Gary of the Cain Gang performed at my friend Crystal's opening of her new Cafe called Du Cafe. Gary sang while D'Arcy accompanied him on keys. D'Arcy and Gary perform as a duo from time to time at different events.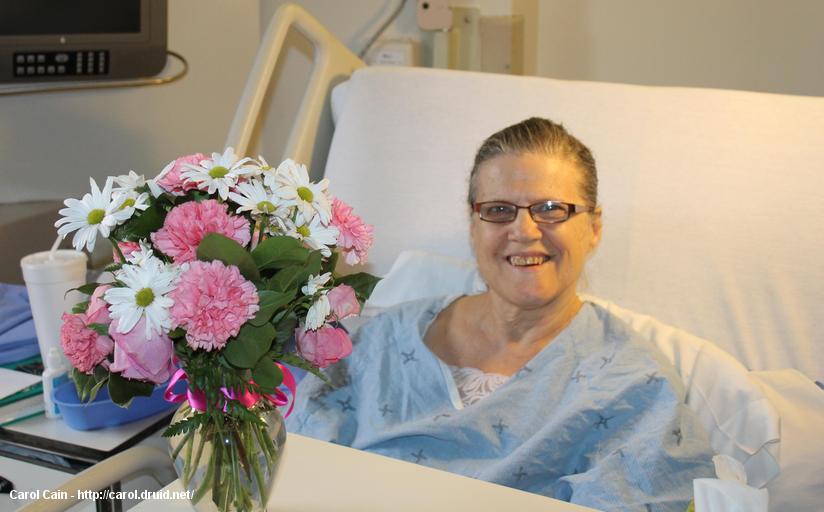 I was in Sunnybrook Hospital after I got hit by a parked car and broke my left femur and stress fractured my right. D'Arcy had minor surgery on a ingrown toenail.
While I was in the hospital D'Arcy saw that my remaining cats from Toronto Cat Rescue were well taken care of and went to other foster homes.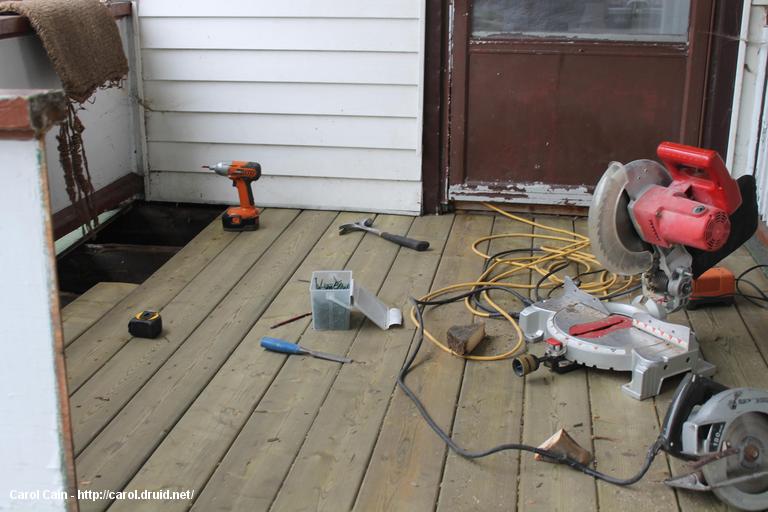 D'Arcy did a lot of things to get me home on November 20, 2013 Like re build our porch, get a ramp for the front of our house etc. He also had to buy a new bed because the old one was too low and was also unstable due to some cracks in the frame.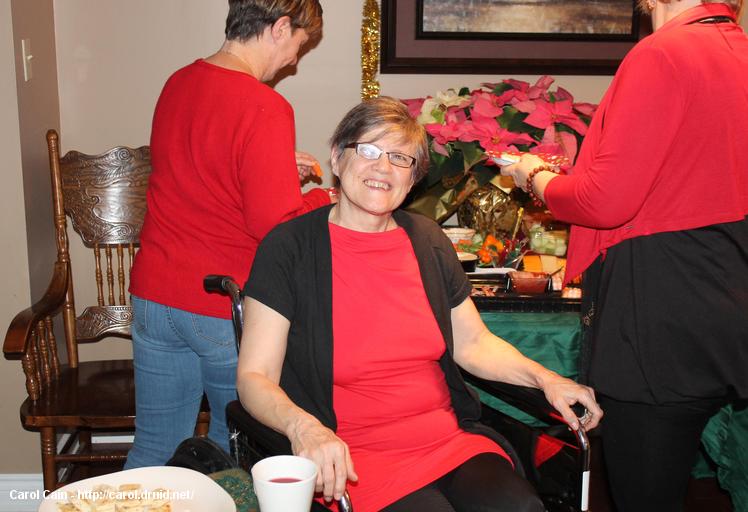 D'Arcy and I went the Monica's Christmas drop-in in a little rented car because I couldn't climb in our truck. There were stairs to get in but between D'Arcy, Chris, Steven and George they managed to get me in and out.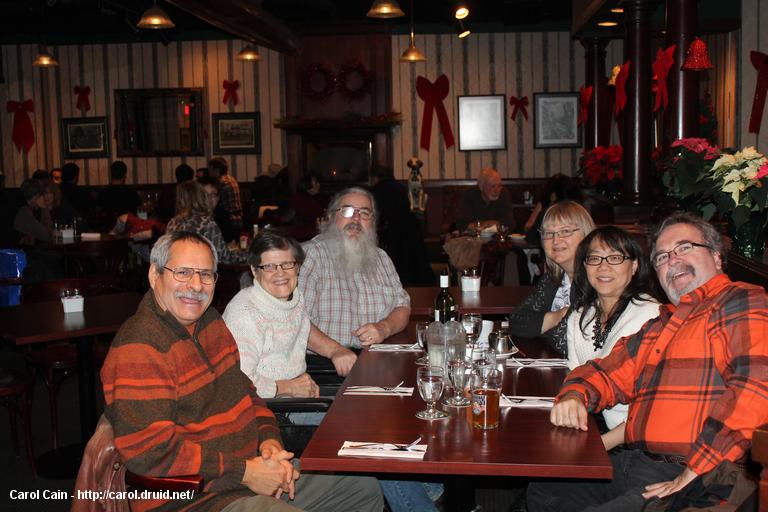 We enjoyed a evening out at Granite Brewery with Stephanie, Jeremy, Gary and his lovely wife Jenny. We usually go to have Christmas Dinner at Gary and Jenny's but I was in a wheelchair and I couldn't climb his stairs.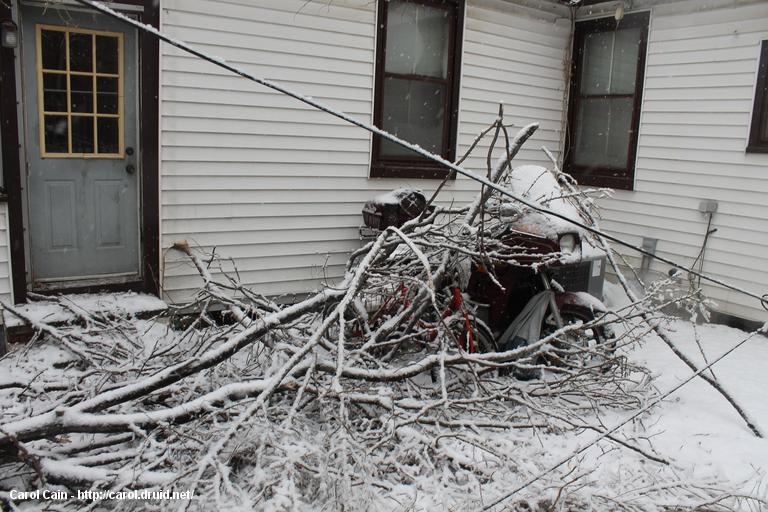 We had a big ice storm that caused power shortages throughout different parts of Toronto. We stayed in a hotel for three days. We were home for Christmas. Almost one third of the homes in Toronto lost power for some time. Some people were out for a week.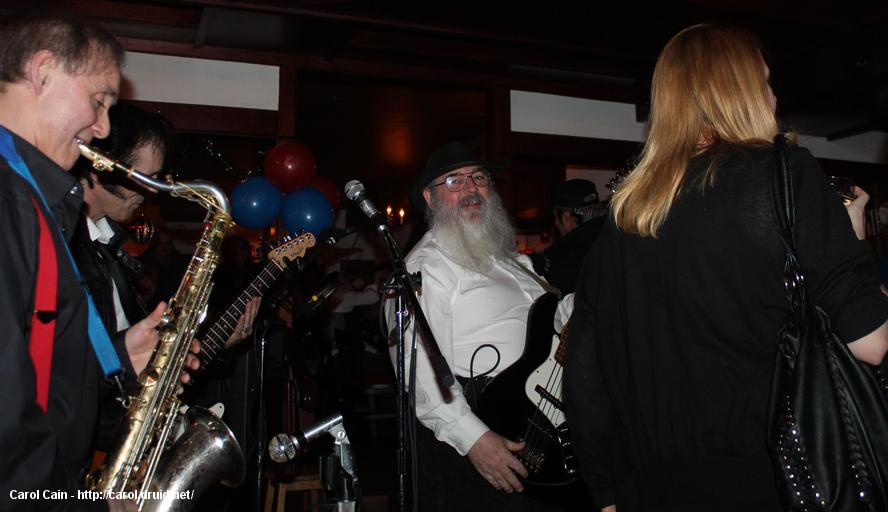 We brought in the New Year with The Rave at The Wallace Gastropub.