Carol L. Cain
Carol's Journal
Register
Directories
Entries
2022.04.28 Returning To Canada
2022.04.28 Returning To Canada
Last updated: None
We had a terrific time in New Orleans for the winter. We watched the Mardi Gras Parades, D'Arcy sat in with a few of the bands down here, going to jams, and I took all the pictures. We made some new friends and we lost a good friend her name was Taylore Jones. She was stabbed in her home. She was very nice to everybody. She worked at Café Negril, one of the places where D'Arcy sat in with the band.
We left New Orleans on April 22, 2022 and headed to Memphis, TN where are staying for six nights. We went to Beale street to check it out. D'Arcy played an extra large guitar on Beale street so I posed next to another. D'Arcy and I also went to two Jams, one at Wild Bill's Blues Pub where he met Manuel Williams and played guitar, bass and keyboard. Guess who took the pictures?
Our campgrounds in Memphis was called Elvis Presley Blvd R.V. Park. We drove to Graceland so we could also tour Elvis Presley's Mansion. Elvis Presley was always my favourite since I was a Kid. I remember I had pictures of him on my bedroom wall as I shared it with my sister Norma. It was our first time at Graceland.
Something happened to us this year that never happened to us since we came to New Orleans. D'Arcy's truck got broken in to January twenty fourth. Then on April ninth someone stole my wallet while we were getting on a streetcar. D'Arcy is helping me get all my credit cars back but my health card had to wait untill we returned to Canada. He did it so quietly I did not know because the guy was holding my arm to help me up and stealing my wallet at the same time. It was the streetcar driver that asked me to check my purse. Then we had to buy four new tires on April 18th after a blowout. It happened on a city street but it could have happened anywhere. We could have just bought two but the others were close to needing replacement anyway. We still had a great time anyway.
We expected to take three days to get home to Canada from Memphis, but we decided we would make it in two. We are at the the same campground as last year, Wildwood Golf and RV Resort.
So we had a great time both in New Orleans and Memphis. We travelled though Mississippi, Tennessee, Kentucky, Ohio and Michigan.
When we arrived at Wildwood Golf and RV Resort. Our neighbours Garry and Rick helped us park our big RV. in our campsite. We placed everything in our RV then went to see more friends at La Rocca where D'Arcy got up and played Bass and guitar with Joe Claus and his band Crowbar Hotel Band.
Then we went home had some hot chocolate and cornbread and watched TV. then called it a night.
So what do you think of our adventure?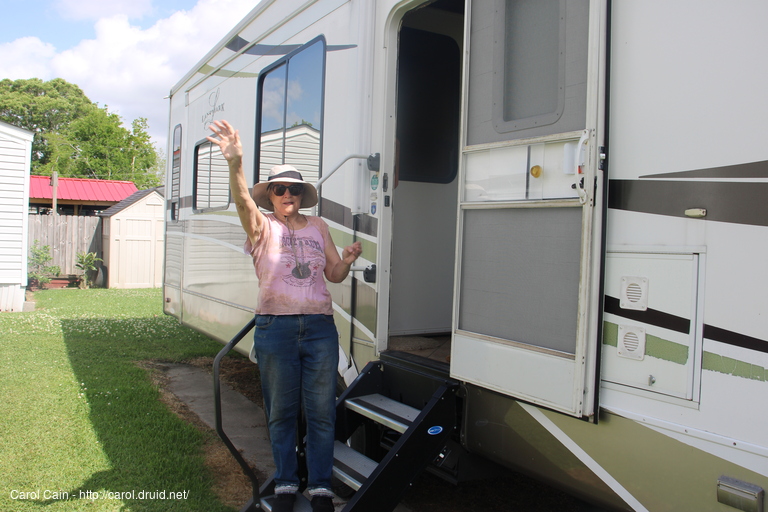 More pictures - leaving New Orleans.
More pictures - Wild Bill's Blues Pub.
More pictures - Hernando's Hideaway.