Carol L. Cain
Carol's Journal
Register
2018.01.01 Recap of 2017
Last updated: None
Happy New Year everyone! It's time now to reflect on the year we just left behind. We remember 2017 and on to bigger and better things.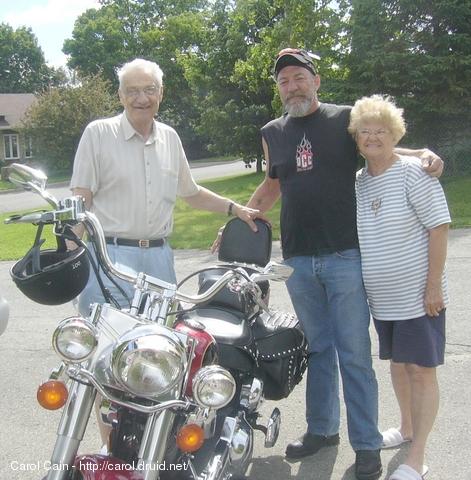 There were a few losses this year. The hardest for me was my mom. Mom is going to be with my dad who passed away in September 2011 and my brother Norman who passed away in 2010 they will have a grand reunion. We knew it was coming, but it is still hard to bear. Mom was suffering from dementia and Dad passed away from Alzheimer's. D'Arcy always said to me, "It's always harder on the ones that are left behind." It certainly seems so to me. It is always hard to see your parents go through losing their memory or not know you.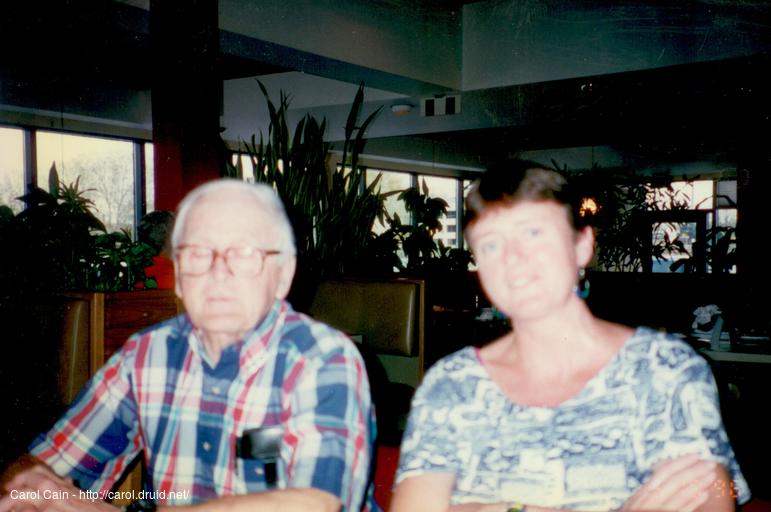 We also lost D'Arcy's Uncle George who leaves three daughters Linda, Marcia and Karen-Maria. Independent to the end, he had even written his own obituary which was in the Montreal Gazette and Toronto Star on Saturday, January 21. George, you will be missed.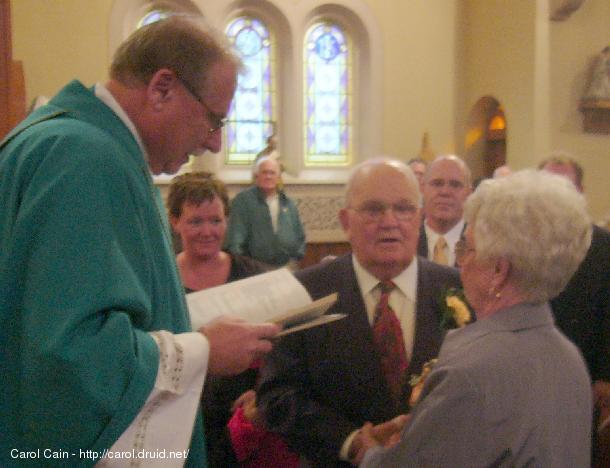 D'Arcy also lost his Uncle Clifford. Uncle Cliff was admitted to Lakeridge Health Centre in Oshawa on August 28 and passed away September 5, 2017. He leaves his wife Mary of 63 years. Dear father of Brendan, Jack & Karen, Cathy & Leigh, Colleen & Chris, Christopher & Olivia, and Mark (predeceased).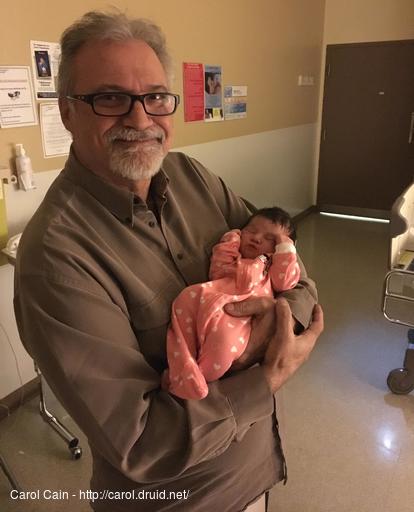 On a happier note we also had some welcome additions to our extended family. Callia, our grand niece, was born to my brother Alan's daughter Amanda on November 21 at 7:41 PM. Callia is a Greek Name. In Greek the meaning of the name Callia is "Beautiful voice". Congratulation Amanda and John, Grandpa and families.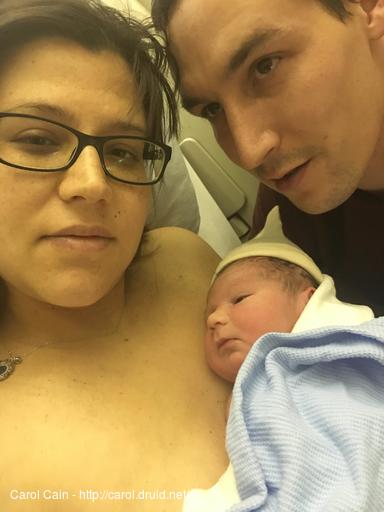 Grampa Alan became a grandfather again on December 29, 2017 when his daughter Crystal and her husband Gabriel gave birth to Louis. Crystal knows that Louis Armstrong was grandpa's favorite. Congratulation Crystal and Gabriel, Grandpa Alan and families.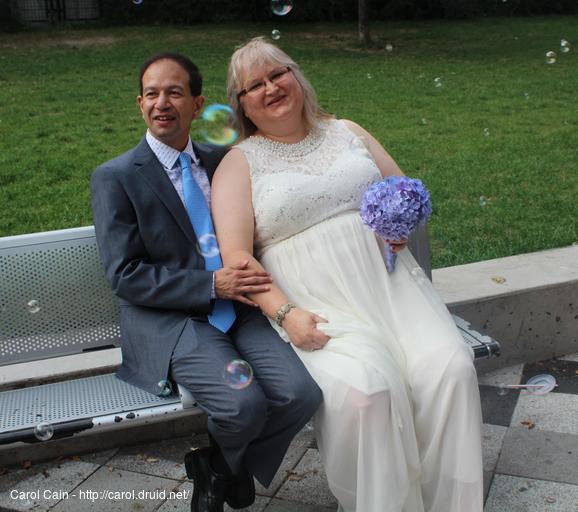 D'Arcy and I were invited to the small wedding of our dear friend Stephanie to Levy. We spent a very relaxed day watching our friends Stephanie and Levy say their "I Dos" in the ballroom at the 519 Church St. Community Center. We met some of the happy couple's family and enjoyed the great food that they had prepared for us. Congratulations and good luck to the happy couple.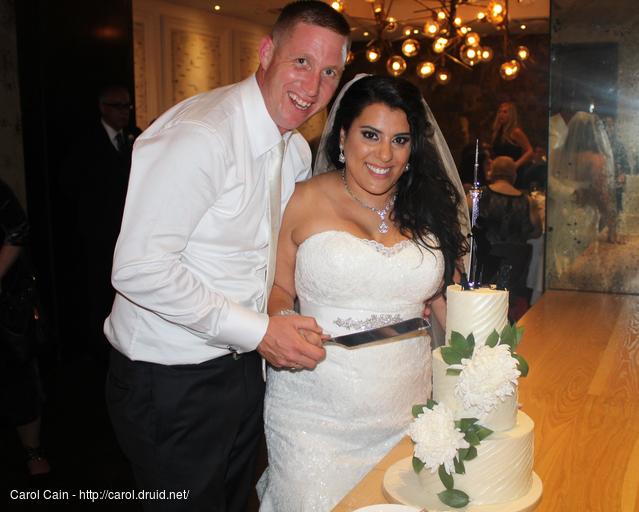 We were also invited to our nephew's wedding in the TD building on the fifty-fourth floor in the Canoe Room. Monica's son Chris married the beautiful Christine. We had a great time,we enjoyed the speeches. Everything was lovely. Take care of one another, you make a great couple.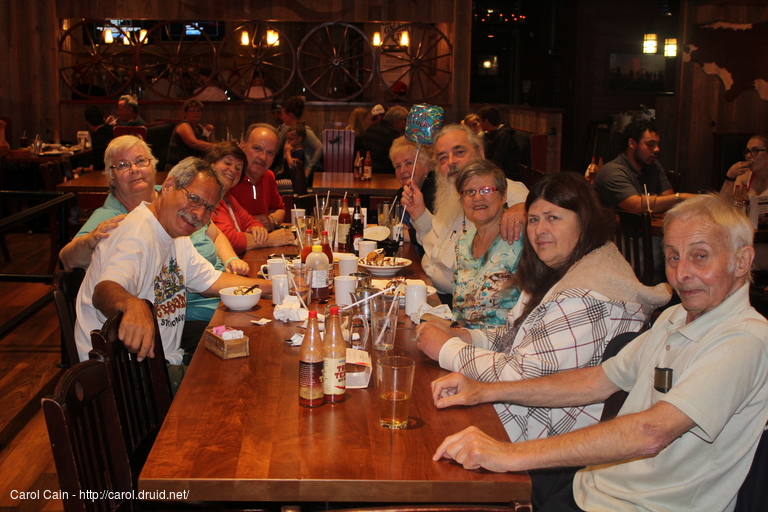 D'Arcy and I joined family and friends at Lone Star in Pickering to celebrate D'Arcy's sixty-seventh birthday. Sitting at the table clockwise from the left is Jeremy, Monica, Mary, Ken, Mary Garden, D'Arcy, me, Patricia and Howard. We had a great time chatting and laughing. Our handsome server Scooter who took our dinner orders was great.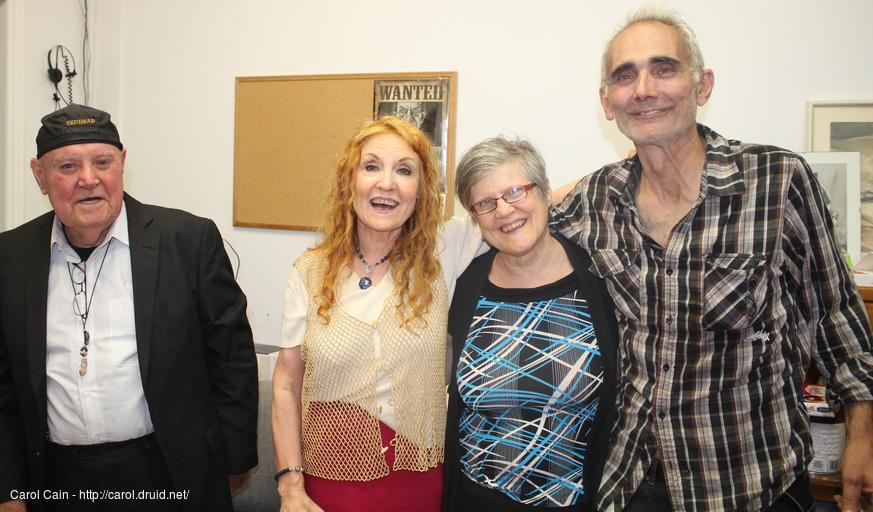 LeRoy does a wonderful job at putting on Beaches Blues Fest every year and this year we celebrated his birthday.
We celebrated three birthdays all in one weekend boy that was fun. A good friend of ours, Jim Etchells and his lovely wife Lillian, invited D'Arcy and I to a great birthday celebration for Frank Cosentino, so we drove off to The Markland Restaurant and Pub in Etobicoke to see some great musicians entertain a packed house.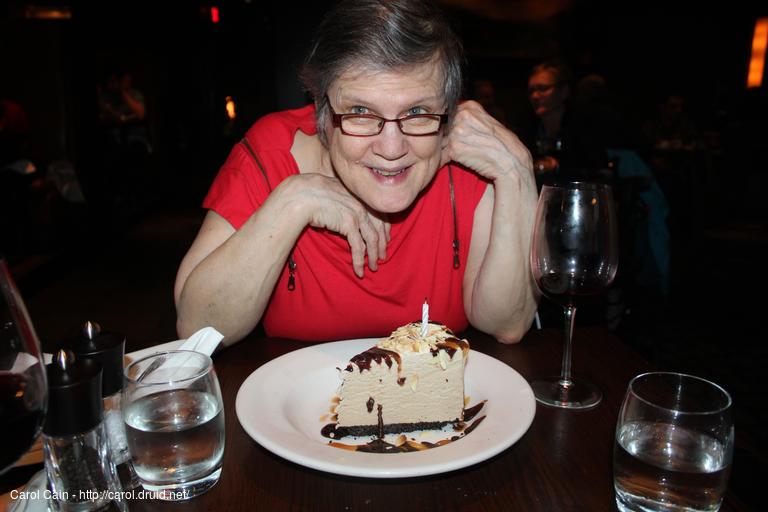 Then my birthday came the next day which was Saturday. We celebrated at The Keg with just D'Arcy and I. We both had steak. I thought that they forgot to cook D'Arcy's steak but it turns out that they did it the way he likes it. The waiter took some pictures at our request and there was a special dessert with a candle in it.
Our dear friend George (Elvis) Pliakes invited us to celebrate his birthday with him and a lot of his friends, at The Duke right here in Toronto. Oh yes, there were two cakes, George does that mean you get older with each cake? I was just asking.
D'Arcy and I went down to the Peppery Cat to enjoy an evening of great music with Mike Sedgewick and friends. Larry and his staff were always nice to me and D'Arcy when we were there. This was Mike's last jam at the Peppery Cat as they are closing their doors in a day or two. Everyone showed up to give a great venue a great send-off. At the end of a perfect evening D'Arcy sang a song to Peppery Cat based on the Dave Clark Five song "I Like It Like That" changing the chorus to sing "Peppery Cat". We took a picture of Larry and his wonderful staff. Larry will not disappear. He will be working with his brother just across the street at the Salty Dog.
Wally, a founding member of The Two Fours, asked D'Arcy to join them on stage to entertain an after dinner at the 50th anniversary reunion of the 1966-67 graduating class of York University's Glendon College. The band played in the Dining Hall at Glendon's beautiful campus at Bayview Ave. & Lawrence E. in Toronto. Karen and Susan sing, Corey and Wally play guitar and sing, Sean played drums, Larry on percussion and D'Arcy playing bass. And Carol on camera. Here is a sample of a Two Four video with D'Arcy on bass.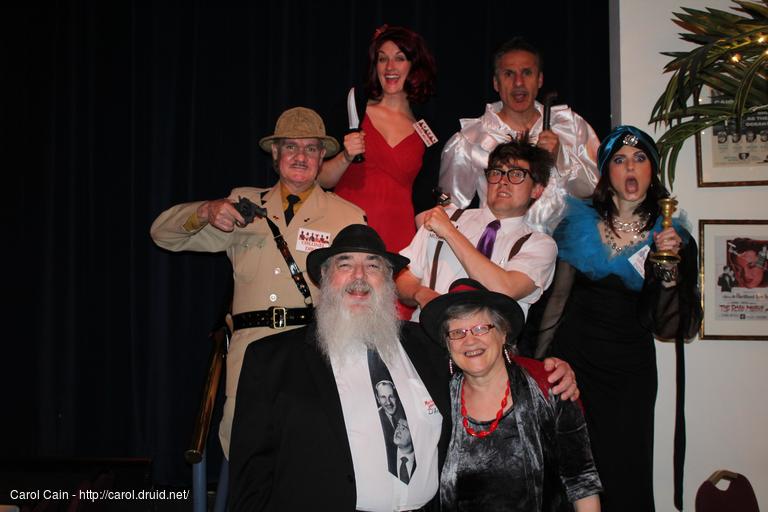 D'Arcy had a terrific idea this year to go to the Mysteriously Yours Dinner Theatre on our anniversary for an evening of great food and mystery. When you make your reservation by phone they ask you what special occasion you are celebrating. The characters get you to stand up and be part of the mystery. We didn't leave the theatre until we got a picture of us with the characters. We had a fun evening. We recommend it to everyone to try it out. You will like it.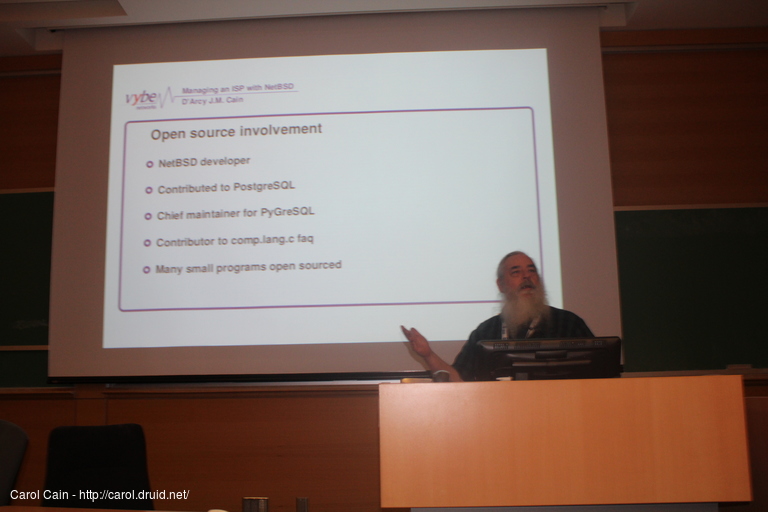 D'Arcy was one of the speakers this year ay BSDCan in Ottawa on June 9, 2017. This is a conference which is held in Ottawa at the University of Ottawa in the Desmarais building. This is a technical conference for people working on and with 4.4BSD based operating systems and related projects. D'Arcy is one of the developers for NetBSD. D'Arcy and the other NetBSD developers discussed last year making sure that this year there were some NetBSD presentations. They achieved their goal because there will be eight speakers from the project including D'Arcy. D'Arcy's talk is on "Centrally managing an ISP with NetBSD and PostgreSQL".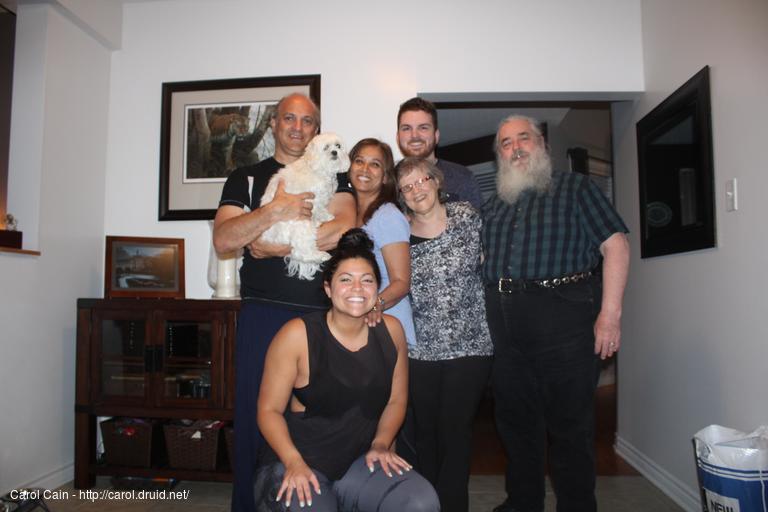 While in Ottawa we visited my brother Robert and his wife Laura and their dog Ella. We had a great time. We stayed for a yummy supper of Chicken, mixed vegetables and potatoes and for dessert a fudge brownie topped with ice cream. Roberts daughter Taylor Rae and her friend Matt came over to swim in their pool in the back yard. Then we took a family picture and said our good byes.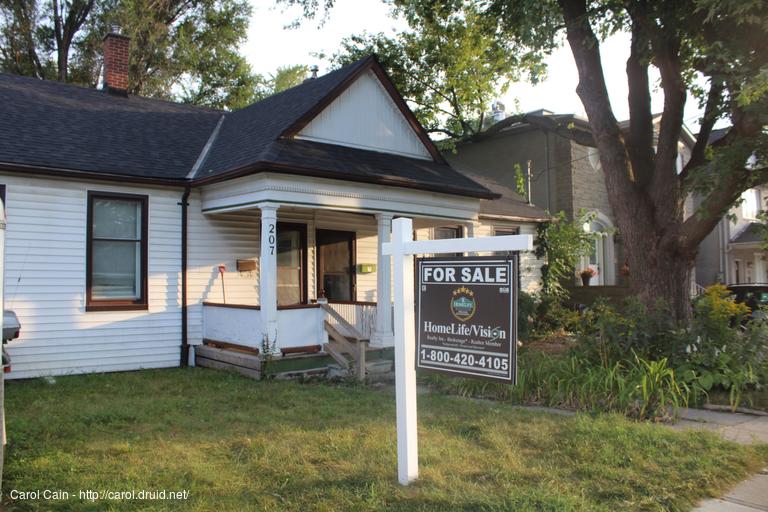 We put our house up for sale on September 2, 2017 with the help of our agent Arthur Khaimov from Home Life/Vision Realty Inc and our good friend Juanita who sold us the house years ago. We had a couple people view the house but they would say they did not like the area. We did not understand because, our house is in East Toronto near schools, churches and near the Don Valley Parkway. It is also near the Pape subway station.
Arthur phoned us on December 22, 2017 to tell us we had an offer. We sold our house on December 23, 2017. Since the offer came in there were more calls to show the house. However, we negotiated with the first buyer and accepted their offer. The closing is at the end of March.
We left Toronto on October 16, 2017 to do some traveling. I created a separate journal directory for our first year of "snow-birding".