Register
Directories
Entries
2013.06.21 OCC Unity Ride Weekend in Sudbury
2013.06.21 OCC Unity Ride Weekend in Sudbury
Last updated: None
This weekend we took out our trailer and made a weekend trip to Sudbury to meet up with our friends in the
Ontario Confederation of Clubs
(OCC). D'Arcy is the Web Master for the OCC. This trip also gave us a chance to try out the trailer on a real camping trip by ourselves.
On Friday our cats Romeo, Hogan and Ebony allowed us to leave the house on condition, that we return to keep their bowls full and their water filled. Oh boy! Do they have us trained or what? So we headed up to Totenham where some good friends were storing our trailer.
We arrived there, hooked everything up and headed to Sudbury. It was an uneventful ride until the eighteen wheel truck ahead of us had a blow out. The driver handled this great but he almost slipped into the other lane and there was a cloud of dirt that we couldn't even see through.
We stopped to get some gas at Shawanaga Gas & Variety. As we were leaving D'Arcy ran over the gas hose and pulled it off the nozzle. Although he stopped and went back to talk to them it was quickly agreed that it wasn't D'Arcy's fault. The hose was missing the retractor cable. It should not have been on the ground in the first place.
As we left the gas station the trailer brakes locked up. The emergency disconnect switch wires had come disconnected. We didn't have any electrical tape but D'Arcy found an old baloon from his birthday party last year in the trailer. He used that to insulate the wires and got us back on the road again.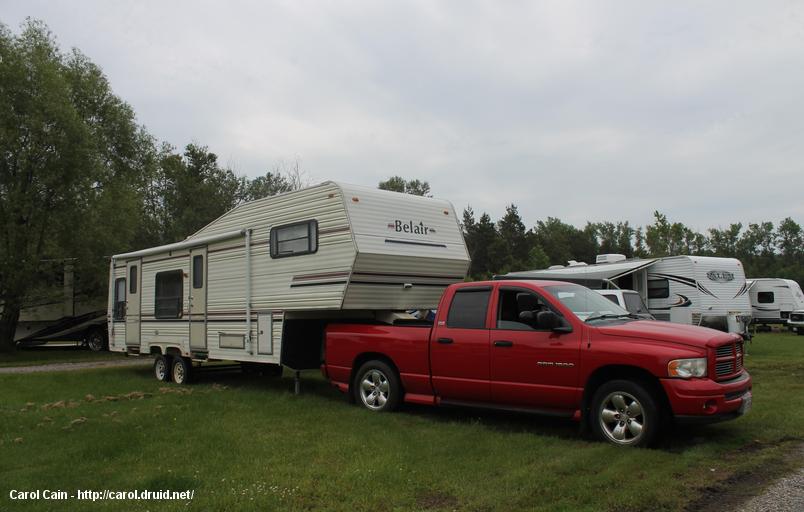 We arrived at Mine Mill Local 598/Caw Campground and checked in at the office where John gave us our campground location. We did a dump of the water tanks as soon as we arrived then proceeded to our location and hooked everything up.
We walked around the campground looked at the different makes of trailers and met the nicest people. Then we slept in our nice queen size bed. The next day I accidentally filled the toilet by not checking that the flush was off so D'Arcy hooked up the trailer and started to the dumping station. But getting out of our camping site was difficult as the trailer brakes were locking up again. D'Arcy wiggled the wires and the wheels started working again.
It was still difficult getting out because it was raining and the rainwater was not being drained. As a result we were sittting in mud. We asked for and got a better spot to return to. This time the trailer was on gravel but the area beside us was still a swamp.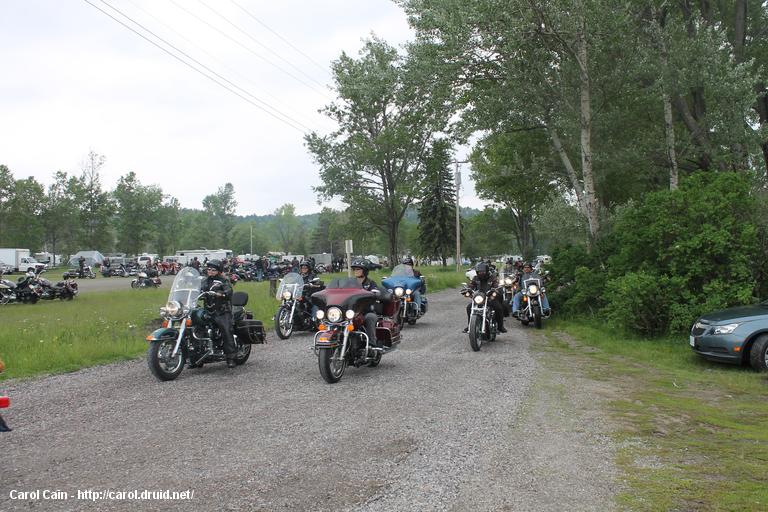 That night OCC had a party. There was a lot of talent. Johnny from the
Independent Motorcycle Corporation
had a great lineup including his own performance. D'Arcy got up on stage and played La Grange, It's All over Now, a song he wrote for me on our fortieth wedding Anniversary and Three Hundred Pounds of Joy. Everyone seemed to enjoy his playing. In fact, the girl at the food concession gave D'Arcy a free root beer because she liked that he wrote a song for me. The food was yummy.
On Sunday Morning we woke up from a good night sleep in our queen size bed. We went to the OCC meeting at nine o'clock at the recreation hall where D'Arcy talked about what happing on their website. Our club give infomation on their upcoming events and etc. Then D'Arcy worked on the trailer wiring to make sure the everything was connected properly so that the brakes would not apply while we were travelling.
On Monday on our way out we met some RV club members and we said goodbye to our neighbor John and his wife. We headed back to Totenham to our friends to park our trailer for two weeks. Then we will store the trailer somewhere near Toronto. On the way home we stoped for gas and I was hungry so we parked and made some cheese sandwiches in our trailer.
All and all the weekend was a great success. Many thanks to everyone involved.